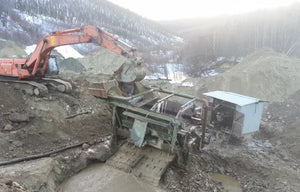 Buy a Real Yukon Mine for $2Million in Bitcoin
The unnamed parent company of a Yukon, Canada, gold mine is now for sale on high-end bitcoin-only marketplace BitPremier for an asking price of $2m in BTC.
The listing indicates that the more than 3,000 BTC price tag includes the gold mine itself and all its associated assets, including $1 million worth of actual mining equipment, the rights to one mining property and the lease agreement to another mining lot.
The ad suggests that the purchase could be a profitable one for the buyer as well, stating:
"Any new buyer could recoup their initial investment in as little as two mining seasons."
The listing indicates that the company earns $1m annually in sales and has the potential to produce 3,000 to 4,000 ounces of gold per year.
In a bid to encourage more novice bidders, the current owner further said he is willing to stay on to manage the property for up to five years to ensure the operation runs smoothly.
Record-setting sale
The listing is just one of the many high-end items that have been listed on BitPremier's website since it launched in May 2013, but if completed, it would be the largest facilitated by the e-commerce company to date.
The most expensive purchase on the platform was completed in March, when a villa in Bali, Indonesia sold for $500,000 in what was believed to be the single largest bitcoin purchase ever.
If completed, the $2m gold mine sale would surpass this figure, potentially setting two new records in the process.
Bitcoin meets gold
Notable for its size, the gold mine listing is also indicative of how bitcoin has become more widely accepted in the precious metals community.
Earlier this year, Bullion Bitcoin  launched a gold-to-BTC exchange, while financial personality Peter Schiff announced in May that his gold and silver outlet Euro Pacific Precious Metals would begin accepting bitcoin due to market demand.
For more on how bitcoin bullion dealers are looking to expand their services into new and potentially lucrative markets, read our most recent report.
Images via BitPremier

#dirtyminer #dirtyminerapparel #dirtyminernews #dirtyminervets #dirtyminerwomen #heavyequipment #mining #miner #goldrush #yukon #canadaminer #yukonminer
www.dirtyminer.ca www.dirtyminer.com www.dirtyminer.us www.dirtyminerapparel.com www.dirtyminer.co.za
---